Fox Pools - Do It Yourself Kits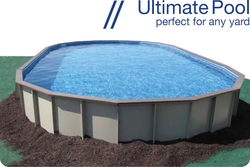 There are 8 pools in the FOX DIY range from the 15' round up to the 32' oval.
Each pool comes complete with a pump and filter, full size skimmer and return fitting(s) and over the wall pool ladder.
Options include for in-ground installations, in pool walk in steps or outside pool walk in steps as seen on our photo gallery.
We have a display pool with the Marigold Bay patterned liner and synthetic wood top cap in our new pool showroom at our store. This pool is running as a salt system chlorine generated pool by Aquacal.
starting at $4,210.50 for a complete pool kit.