Southern Pool Cleaning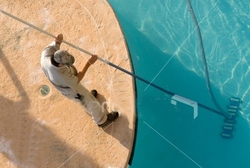 Southern Pool Cleaning is a separate company which is affiliated with Southern Pool and Spa. We offer a selection of pool maintenance and cleaning services. You may choose the program which is best for your situation including:
Full time service
Green pool cleaning
Regular pool cleaning and maintenance programs will vary from pool to pool depending on location and screen enclosure, but they may include:
Netting debris from water surface and pool bottom
Vacuum pool floor
Brush pool surface areas and waterline tiles
Empty cleaner, skimmer and pump baskets
Test water for chlorine, pH, alkalinity levels
Conduct other tests as required
Backwash or clean cartridge in filter
Clean salt chlorinators and injection points for liquid chlorinators
Check equipment to ensure it works correctly
Supply and administer chemicals in the correct amounts
PLEASE NOTE If the surface of your pool is showing signs of wear such as rough patches, missing plaster etc, these areas will be more susceptible to algae ( dark green or black ) and
cleaning alone will not permanently remedy the situation. Extra chemicals may hold the problem at bay for a short while, but the long term answer is to have the pool professionally resurfaced by a licensed contractor. We have in house facilities for resurfacing.
THE AVERAGE POOL SURFACE LIFE IS 10-12 YEARS AS STATED BY THE F.S.P.A.